It has been said that the kitchen is the heart of the home, and have we have some AMAZING Dream Kitchens that can be found right here on the South Shore! These kitchens are featured in homes currently available for sale with Molisse Realty Group.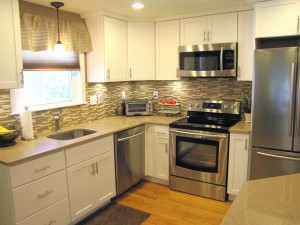 1. Designer Kitchen, light and bright with quartz counters, stainless steel appliances, and island. Beautiful glass and marble backsplash must be seen! Featured at 90 Selwyn Road, Braintree.
2. Gorgeous Cherry Cabinetry features beautiful woodwork throughout and a tin ceiling twist! This kitchen has been newly renovated and is one that will be sure to please! Visit 20 Payson Ave, Rockland.
3. Classic White! Large kitchen with hardwood floors, granite counters, stainless steel appliances, breakfast bar and pantry. Found at 155 Stagecoach Drive in Marshfield.
4. Expansive eat-in kitchen with stainless steel appliances, granite counters & island with cherry cabinets, message center & bar. See 41 Quail Run, Marshfield.
5. Built with the Chef in Mind! Entertainment size kitchen equipped with a Thermador 6 burner stove with double oven and done in granite and cherry. Visit 140 Quail Run, Marshfield.
6. Custom Built kitchen with large sit-down center island, stainless steel appliances, and granite counter tops. Take a look at 14 Winter Wood Lane, Marshfield.
Contact an Molisse Realty Group Agent today for all your real estate needs!